Ticket sales for the 2024 Superenduro GP of Hungary, taking place at the MVM Dome on February 3, 2024, have begun. Last time, at the previous venue, all tickets were sold out three weeks before the event. This time, the best in the sport, including Billy Bolt, Taddy Błażusiak, and two Hungarian talents from the Prestige class, Zsigovits Norbert and Szőke Márk, will be competing in front of an even larger audience.
Fans are invited to choose from Gold, Silver and Bronze level tickets for the 2024 Superenduro GP of Hungary, which will take place at the new venue, the MVM Dome in Budapest on February 3, 2024. Gold seats are for the 100 section, Silver for the 200 section, and Bronze for the 300 section. Additionally, there will be Training passes valid for the practice sessions, Paddock passes for access to the paddock area, and wheelchair aide tickets available this year.
The event organizer, TRP Hungary, offers a progressively increasing ticket pricing structure. The first 500 tickets can be purchased for a significant discount, at as low as 9,990 Hungarian Forints. After that, different levels of discounts are available until November 15, 2023, January 3, 2024, and February 2, 2024. Tickets are accessible through the Superenduro.hu website and the Eventim national network.
"At the beginning of this year, the Superenduro GP of Hungary exceeded all our expectations with a tremendous success, and for 2024, we are raising the stakes further. We want this to be the largest motorcycling event in the region, taking place in one of Europe's most impressive sports arenas. The riders engage in sensational battles, and, in addition, we can cheer for Hungarian pilots," stated Tamás Őry, the CEO of TRP Hungary.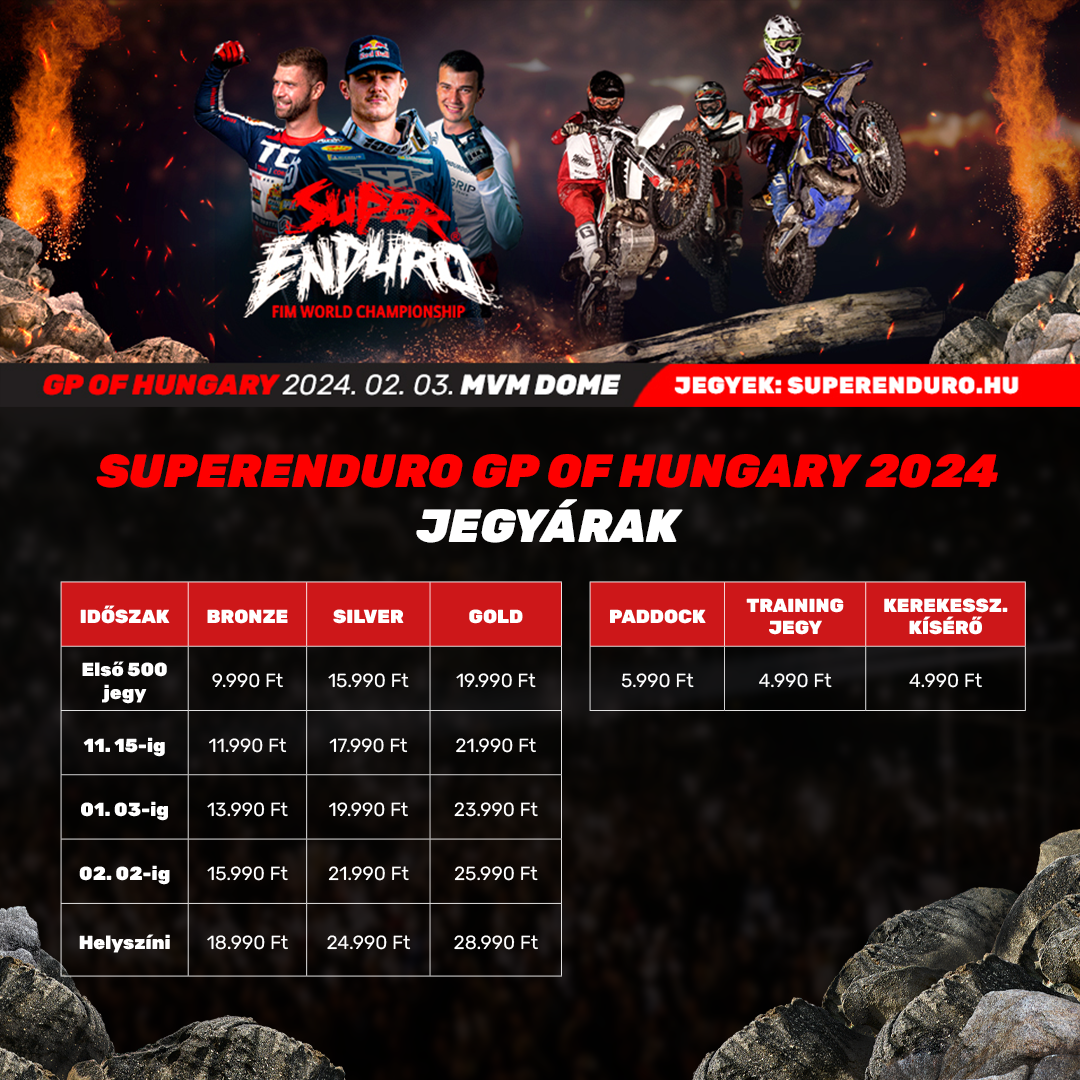 This year, the Hungarian Motorsport Academy will have three representatives in the field: in the Prestige category, both Norbert Zsigovits Norbert and Márk Szőke will be on the starting grid. They have previously won races in Budapest in the European Cup. In the Junior category, a representative of the new generation, Roland Liszka, will also be among the contenders. Additionally, more Hungarian participants are expected to make a return in the European Cup.
Exceptionally exciting racing
Superenduro is a spectacular form of motorcycle racing. The sport essentially combines elements of enduro, motocross, and trial racing. During practice sessions, riders race against the clock, but in races, it becomes a head-to-head battle. There are various sections, including enduro sections with typically wooden and rocky obstacles, motocross elements like jumps, whoops, berms, and trial-style skill challenges. Some courses may also feature higher structures.
GP rounds are typically one-day events where riders compete against each other in three categories within short, usually a few minutes long races, often held in sports arenas.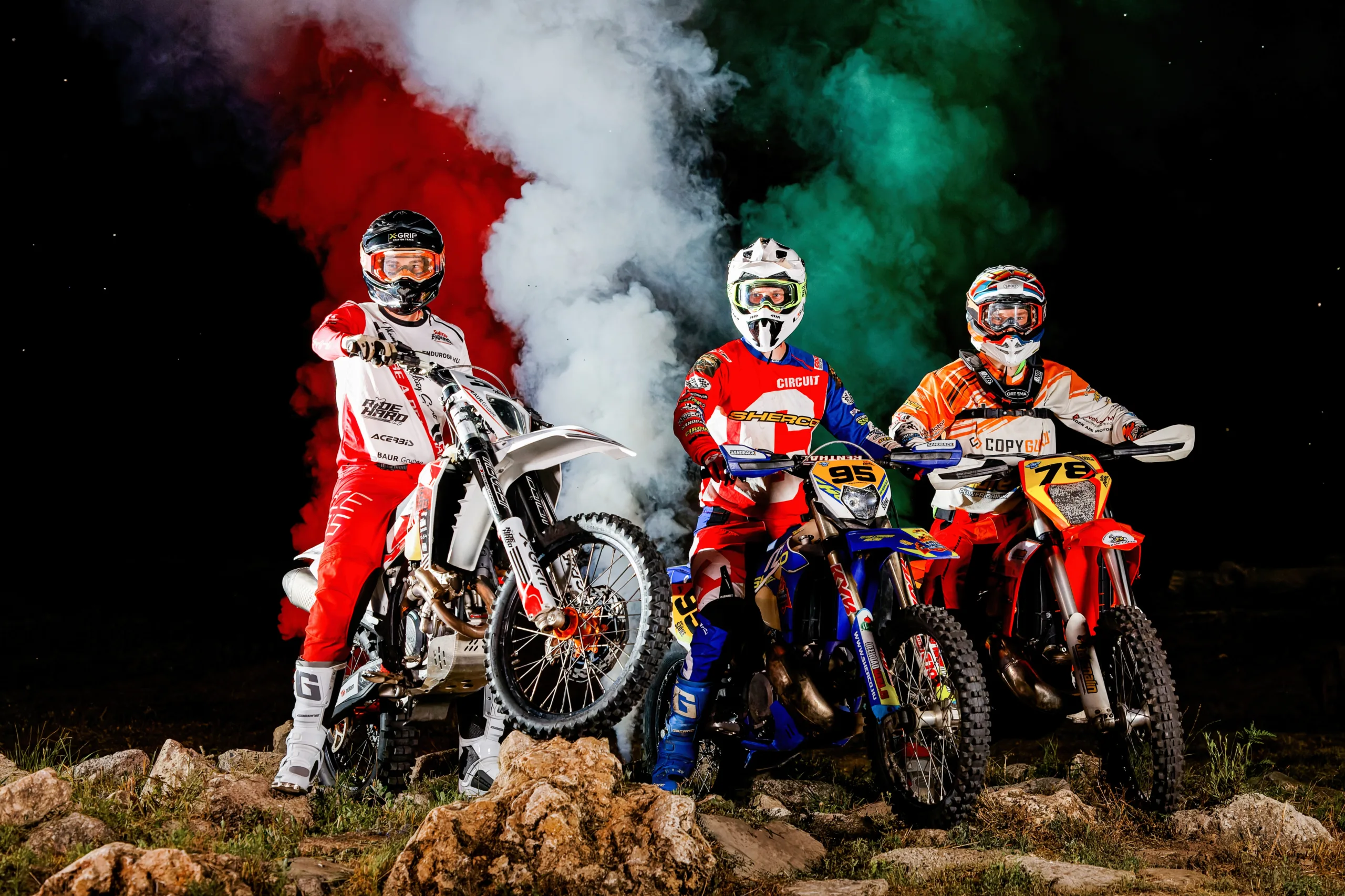 A GP fordulói jellemzően egynapos események, amelyek során három kategóriában küzdenek a versenyzők egymással rövid, néhány perces futamok keretein belül, általában sportcsarnokokban. A formátum, a szabályok, a versenyzők és a helyszín részletes bemutatása a Superenduro.hu oldalon található.